Anzeige
Master of European Studies - Governance and Regulation
Organisation:

Typ:

Full-time

Certificate:

Master of European Studies (M.E.S.)

Duration:

2 semester(s)

City, country:

Bonn, North Rhine-Westphalia, Germany
Programme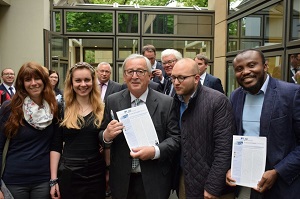 The Master of European Studies - Governance and Regulation is a one-year postgraduate program taught at the Center for European Integration Studies at the University of Bonn. Studying at ZEI offers students the chance to understand the European Union and the critical interplay between governance and regulation. Taught by ZEI professors and a flying faculty of renowned experts from all over the EU, students are part of an international group with diverse backgrounds and experiences. ZEI's research and teaching emphasis on "Governance and Regulation in the EU" brings together two aspects whose critical interplay shapes the EU, its impact on citizens' lives and its role globally. Interdisciplinary perspectives on the important relationship between governance and regulation offer greater insight and clarity into the increasingly complex process of European integration.
ZEI's Master's programme enables European and non-European young professionals to become experts in the interplay between political, legal and economic aspects that constitute today's life in the EU and influence the EU's relations with other parts of the world.


On the basis of highest methodological and teaching standards the international Master program trains motivated young graduates, who plan a career in EU- or national institutions, international organizations, NGO's or national/multinational companies. The English-taught program welcomes up to 32 graduates per year, approx. 70 percent being international participants from all over the world.


Supporting your career is our mission. ZEI's Career Development Program includes an application and interview trainings,trainings on the EU-Concours and similar entry competitions, trainings on intercultural competences as well as on lobbying and negotiating in the EU.


After the completion of the program, the Faculty of Arts of the University of Bonn bestows upon the Master students the degree of a Master of European Studies (60 ECTS).
Prof. Dr. Ludger Kühnhardt
Director, Center for European Integration Studies
Target audience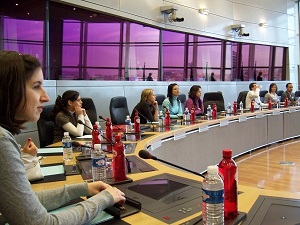 Interested young professionals from anywhere in the world can apply for the post-graduate course of studies, who show a strong commitment to European affairs and who explain their motivation to study European Studies in Bonn convincingly.
Fluency in English is required. Fluency in other languages is beneficial.
Emphasis/Curriculum
The program is arranged in an interdisciplinary way. This meets the need for aspiring young professionals, with high potential and a generalist top quality education.
Basic modules provide students with a general knowledge and an overview of the subject matter. Specialized modules provide detailed knowledge on issues of special importance. The program focusses on European governance and regulation in particular.


1. Basic Modules
Governance in the EU: Historic evolution and political system;
Law of the EU: Institutions and Procedures;
Political Economy of European Integration;
EU competition law and the EU law of sector-specific regulation;
EU fiscal federalism; Agenda setting, decision-making and implementation.
2. Specialized Modules
Multi-level decision-making in the EU - between national and EU interests;
The European Single Market;
Governance and regulatory issues of the EU's external relations;
Sector-specific regulation in electronic communications and logistics;
Sector-specific regulation in energy and water.
Practical relevance
In addition to the modules, students take part in
workshops, trainings and field-trips
. Instructors look back on a proven track of expertise. Practical elements of ZEI's curriculum include:
Europe Dialogues:
Experts and practitioners from EU- or governmental institutions, International Organizations, NGOs and the private sector provide an insight into their fields of work. "Europe Dialogues" are held on a regular basis and offer an excellent opportunity to network.
Field trips:
The Master Program comprises four field trips to European and German governmental institutions in Luxemburg, Brussels, Frankfurt and Berlin. Students visit e.g. the European Commission, the European Parliament, the European Central Bank, the Court of Justice of the EU, the European Court of Human Rights, the Council of Europe, the German Federal Foreign Office, the German Federal Ministries of Economics and Finance, the German Bundestag, the Permanent Representation of Germany to the EU and others.
Career Development Program:
ZEI supports students individually in career planning and applications. In addition, workshops and trainings prepare students with technical and social skills that are useful for their future careers. Instructors are experienced in their fields of training. The Career Development Program (CDP) includes a coaching in small groups, an application training and trainings on the EU-Concours. The CDP also includes a simulation of negotiations in the EU's Council of Ministers.
Admission/Entrance requirements
Total fees approx.

€ 6.500
Admission Requirements:
Graduate degree from university
Excellent academic credentials
Fluency in English
Relevant work experience (internships)
Strong commitment to EU-topics
Selection Process:
Graduates should apply until the 15th of March for early applications, followed by rolling applications if places are still available. 
Candidates receive a confirmation of their application
After a first selection process, candidates will be notified by email
ZEI's Admissions Board notifies candidates by mid-April via email
End of August: closure of the selection process
Languages
| | |
| --- | --- |
| Language(s) of instruction: | English |
| Going abroad: | not possible |
Our Service
The Master program has its own Master office. A Program Coordinator and assistants take care of the management of the program. They are the first port of call for the students during their entire study period.The Academic coordinator helps students with any academic related questions. Rooms in dorms can be organized through the Master office. Students also receive a comprehensive information package before their arrival.
Information material
Order information material from Rheinische Friedrich-Wilhelms-Universität Bonn. The given data is transmitted only to this educational provider and, of course, not given to a third party.
Organisation
The Center for European Integration Studies (ZEI) is a research institute at the Rheinische Friedrich-Wilhelms- University in Bonn. It was founded in 1995, and since then the institute has been engaged in:
Future-oriented research
Political consultancy
Events that link science with its practical application
Graduate education and mid-career training
Thus, ZEI contributes to finding solutions to unsolved issues of the European Integration and the shaping of Europe's international role.
Studying in Bonn
The University of Bonn was founded almost 200 years ago and is considered to be one of Germany's and indeed Europe's most important institutes of higher education. As home of learning to over 27,000 students, we enjoy an outstanding reputation both at home and abroad.


The University of Bonn is one of the world's leading research based universities and therefore it is no surprise that we operate on an international level. We particularly specialize in the fields of research and teaching and this has led to our evolving into the position of a truly prominent international institution.
Course guidance
Sally Brammer, Academic Coordinator
+49 (0)228-73 4929
Contact
Rheinische Friedrich-Wilhelms-Universität Bonn
Zantrum für Europäische Integrationsforschung, Genscherallee 3
53113 Bonn
Germany
Map
Phone:

+49 (0)228-73 1899

Fax:

+49 (0)228-73 1791

E-Mail:

Web: